To put it in the simplest terms possible, the 2018 Genesis G80 is more than just a car-it's a way of life.
This is one of the only sedans worthy of your time and attention, given your importance. That's why we wrote this 2018 Genesis G80 review for our VIP clients in Doylestown, Chalfont, Warrington, and the surrounding Pennsylvania communities. Get in touch with us at Fred Beans Genesis for more info.
2018 Genesis G80 Sport Trim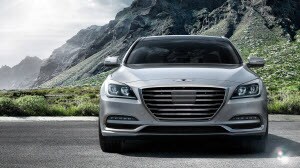 One of the most impressive aspects about 2018's Genesis G80 is the new Sport trim. According to the reviewers at Car and Driver, it offers, "snarly intakes, more aggressive front and rear bumpers, a mesh grille in place of the regular G80's slatted piece, a handsome set of 19-inch wheels wearing performance tires, and a subtle lower-body kit." Since this is Sport, we can't forget about its sporty performance.
With a state-of-the-art 3.3L twin-turbocharged V6 engine that delivers up to 365 horsepower, you'll be ripping down the highway like it's Circuit de Spa-Francorchamps of the Formula One Belgian Grand Prix.
The Devil is in the Details
If there's one thing that's certain about Genesis, it's that they do the little things right. Plus, if you do enough little things right, then you've done a big thing right. That seems to be the pattern with the G80.
Its standard sport seats come with copper-toned stitching; its dashboard is trimmed with stylish carbon-fiber; the pedals are outfitted with aluminum; even the headlights got an upgrade with two LED lamps.
That's not even to mention the variety of entertainment and convenience technologies that pervade the cabin. We're talking about an available 17-speaker Lexicon audio system, a Qi wireless charging pad, and a 9.2-inch dashboard display screen. There's no longer such thing as a boring drive - or a boring ride.
Safety for the Whole Family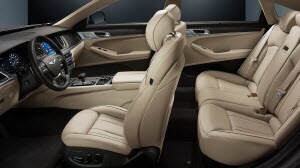 You can still rely upon the high-tech safety features that you've come to expect from Genesis. This means systems like Automatic Emergency Braking, Lane Keep Assist, Blind Spot Detection, and more.
The Fred Beans Genesis Experience
Of course, there's a certain prestige to owning a car like the 2018 Genesis G80, but there are certain practical benefits, too. We provide you with a customer satisfaction experience unparalleled in the automotive world. From scheduled maintenance appointments to a complimentary service valet to 24/7 Enhanced Roadside Assistance, the Genesis G80 puts the globe at your fingertips.
Now that you know that it's all yours, only a single question really remains: What will you do with it?
Contact us today at Fred Beans Genesis to test drive the Genesis G80!
If you live near Warrington, Chalfont, Doylestown, or the surrounding Pennsylvania area, then we're the exclusive Genesis dealership you've been waiting for. Reach out to us right now to schedule your exciting Genesis G80 test drive. Simply call us on the phone or stop by our showroom-we can't wait to help!